Real Racing 3 received a major update today, adding both new content and performance enhancements to the popular freemium game. Players can now access Dodge and Shelby muscle cars and race in all new events.
The game's difficulty has been slightly tweaked, to allow for faster and more accurate skill adjustments and visual physics enhancements offer up realistic pitch and bodyroll for classic muscle cars.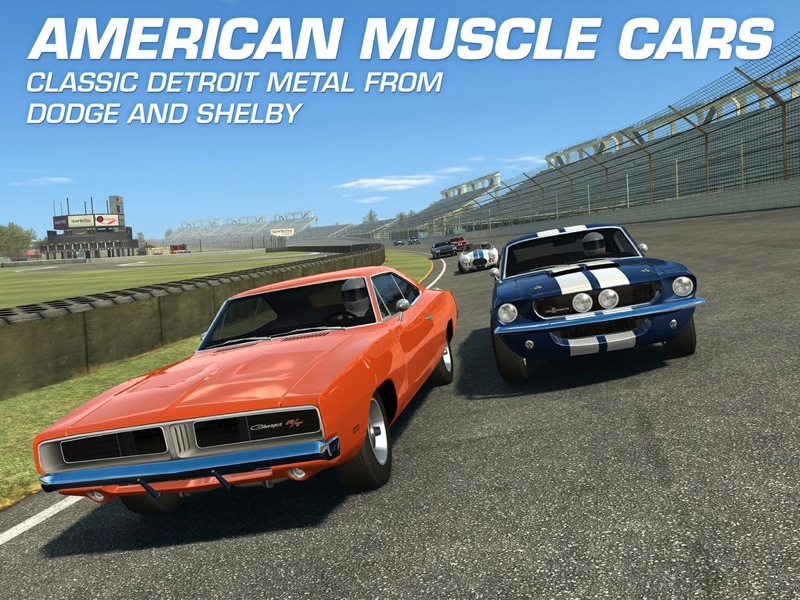 – New cars – Dodge and Shelby add a collection of big V8 muscle cars to Real Racing 3
– New events – compete in multiple challenging Series featuring a field of muscle cars hailing from Detroit
– Difficulty tuning – faster and more accurate skill adjustment for even tighter competition
– Visual physics enhancements – classic muscle cars come to life with realistic pitch and bodyroll
– Improved cameras – enhanced sense of speed and motion yields a more authentic racing experience
– Additional social networking options for enhanced Time Shifted Multiplayer and Cloud Save functionality
Real Racing 3 marked EA's first foray into freemium pricing for a game series that was formerly offered at a set price. The pricing structure proved to be a success, and the game stayed on the top charts for multiple weeks. In July, the company revealed that Real Racing 3 has been downloaded 45 million times, averaging 2 million daily active users.
EA has since followed up by introducing other high-profile freemium games including Plants vs. Zombies 2. EA announced yesterday that it would bring the freemium pricing model to its mobile FIFA titles as well.
Real Racing 3 is a free app that can be downloaded from the App Store. [Direct Link]
—
Full Story (EN):More …
Prevod :Prevod teksta
Source:MacRumors