Designer Marc Newson is joining Apple, under the leadership of design head Jony Ive, reports Vanity Fair. Newson is a well-known industrial designer who has created a range of items for luxury retailers, and his work has even been shown off at the Museum of Modern Art in New York.
Newson has created everything from furniture to eye glasses, and he has been described by Vanity Fair as having a "love of color and of sensual curves," with his work taking on a "futuristic, vaguely Jetson-like flair."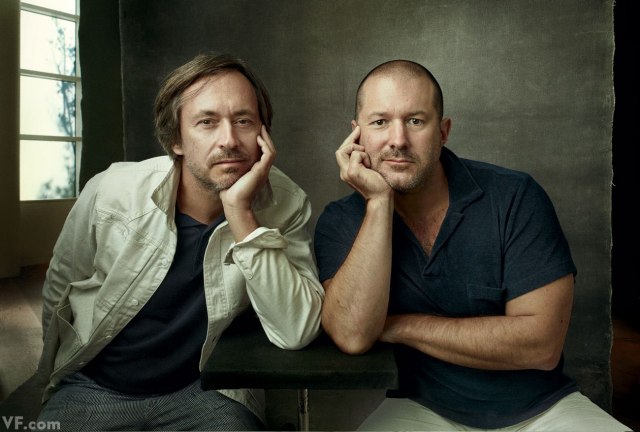 Marc Newson with Jonathan Ive, courtesy of Vanity Fair
Newson is a longtime close friend of Jony Ive, and the two have collaborated in the past. Last year, Ive and Newson teamed up to create a
range of products
for an auction to benefit Product (RED), including an
aluminum desk
, a
Leica camera
, and a set of
solid gold EarPods
, among other items.
"Marc is without question one of the most influential designers of this generation," Ive said in a statement provided to VF Daily. "He is extraordinarily talented. We are particularly excited to formalize our collaboration as we enjoy working together so much and have found our partnership so effective."
According to the report, Newson will continue to be based in the United Kingdom, but will make frequent trips to the company's Cupertino headquarters. Newson is also said to have collaborated on some designs for Apple earlier this year, before joining the company.
In an interview last year, Ive commented on working with Newson, noting that both men are "fanatical" when it comes to paying attention to small details. In the same interview, Newson said that both he and Ive are perfectionists. "You discover that very few people have the level of perfection we do. It is actually very sick. It is neurotic."
While Newson will work under Ive, it is unclear which specific projects he will take on. When asked if he would work on the iWatch, Apple declined to comment.
—
Full Story (EN):More …
Prevod :Prevod teksta
Source:MacRumors