The cover of Fortune's January edition showcases an interview with Disney CEO Bob Iger and his "Empire of Tech," focusing on Disney's growing media empire with acquisitions of brands such as Star Wars, Indiana Jones, and Marvel expanding the company's already considerable reach over the past few years. With Disney's and Iger's histories intersecting with those of Apple and Steve Jobs, Iger unsurprisingly takes a few moments to discuss topics such as his relationship with Jobs, his view on Apple and Disney's history, and Disney's attempt to stay relevant in a growing technological world.
In one anecdote, Iger recalls the moment in 2005 when he was about to be named as the new CEO of Disney, calling Jobs ahead of time to let him know what was coming. Disney's own animation was seen as "lifeless" in the years before the company's 2006 acquisition of Pixar, and amid reports of "bad blood" between former Disney CEO Michael Eisner and Jobs himself and an inability to come to an agreement for a continued distribution deal following the successful release of Toy Story, both studios' futures remained up in the air.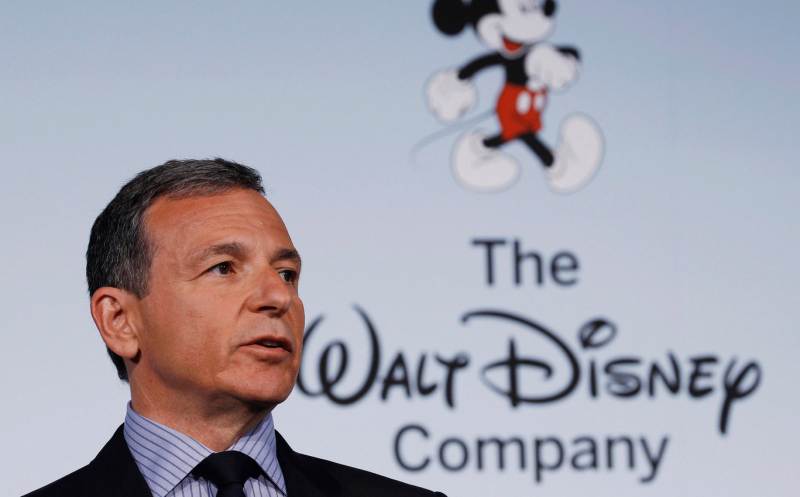 Even before the news became public, he called Jobs to let him know big changes were coming. "I told him I was well aware of how strained the relationship had become," says Iger. "I said, 'I know you think it's going to be business as usual, but I'd like to prove to you that it's not.' "

Jobs gave Iger the benefit of the doubt and told him to come up as soon as the dust settled. And that's just what Iger did—not only because he knew Pixar was the key to revitalizing Disney's lifeless animation studio, but also because he saw Apple's CEO as a valuable technology partner. The sentiment, apparently, was reciprocated.
Ensuing fruitful years of a Disney/Apple alliance began immediately, with Iger flying out to Cupertino to officiate a deal to get Disney-owned content on the iTunes Store, a big deal for the still-budding platform.
"Steve recognized that in Bob he actually had a partner," says Edwin Catmull, current President of both Pixar Animation Studios and Walt Disney Animation Studios. "In the subsequent years they thought of each other as true partners. That's what he wanted, and that's not what he had previously."
Two weeks after becoming CEO, Iger stood alongside Jobs to announce that Disney-owned ABC and its network of programs would be available on the iTunes Store, which only sold music at the time. Iger notes that Disney "got backlash from everybody — from affiliates, retailers, and the guilds." He goes on to remark, however, that the experience "changed my relationship with him [Jobs] bigtime. And it led to a much better dialogue on Pixar."
The Disney/Apple partnership continues to grow stronger, even in the wake of Jobs' death. Iger joined Apple's board just months after Jobs' passing, and Jobs' widow Laurene Powell Jobs remains Disney's largest individual shareholder thanks to Disney's acquisition of Pixar.
And Iger isn't afraid of the necessity to innovate, as highlighted by Apple CEO Tim Cook in a quote for the piece. "He has the courage to lose sight of the shore," Cook says of Iger. "He understands the tradition of Disney but isn't wedded to it." But Iger also knows that both companies' pasts are important in looking towards the future, and remembers fondly brainstorming sessions with Jobs.
"Occasionally we would stand in front of a whiteboard and talk about ideas," says Iger. "We'd just muse on business. When you think about it, media's the intersection of content and technology—it's all about storytelling, like photography and the camera. So we'd talk about that a lot, the intersection between the story and the gadget."
The partnership isn't only growing strong behind boardroom doors, either. Just last week Apple Pay launched at Walt Disney World, its "Disney Movies Anywhere" app debuted exclusively on the App Store before expanding to Android recently, and even the upcoming Apple Watch is said to be including a Mickey Mouse-themed watch face option.
—
Full Story (EN):More …
Prevod :Prevod teksta
Source:MacRumors