Ahead of the launch of the iPad Pro, Apple executives have been doing a series of interviews to drum up excitement and interest in the device. Earlier today, The Independent published an interview with Tim Cook where he shared his thoughts on the Apple Pencil and the iPad Pro's target market.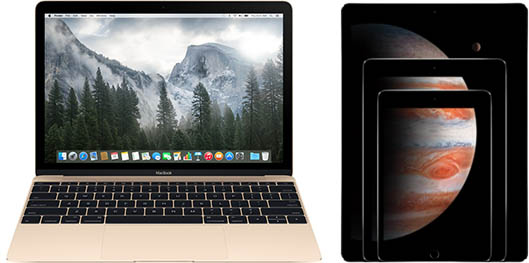 This afternoon, The Telegraph published a second interview where Tim Cook spoke further on his vision of the iPad Pro as a PC replacement and how tablets are subsuming the PC market. According to Cook, the iPad Pro will serve as a replacement for a notebook or desktop computer for "many, many people."
"I think if you're looking at a PC, why would you buy a PC anymore? No really, why would you buy one?" […]

"Yes, the iPad Pro is a replacement for a notebook or a desktop for many, many people. They will start using it and conclude they no longer need to use anything else, other than their phones."
Cook also said the iPad Pro will be highly appealing to artists and other creatives, pointing towards the ease of use of the Apple Pencil and the iPad Pro's sound system, two features he also highlighted in his earlier interview with The Independent.


According to Cook, sales of the new Apple TV were "very strong," a sentiment he echoed for the Apple Watch, which will "set a new record this quarter." Cook also said Apple doesn't have plans to introduce sensors or other health features that would cause the FDA to get involved with the device. He didn't rule out the possibility of other products that require FDA approval, like apps.
We don't want to put the watch through the Food and Drug Administration (FDA) process. I wouldn't mind putting something adjacent to the watch through it, but not the watch, because it would hold us back from innovating too much, the cycles are too long. But you can begin to envision other things that might be adjacent to it — maybe an app, maybe something else."
Tim Cook's interview, where he also speaks on the iPad mini 4 and device cannibalization, the health benefits of the Apple Watch, and the possibility of an Apple subscription service is well worth reading over at The Telegraph.
Apple's iPad Pro will go on sale online on Wednesday, November 11. Pricing for the iPad Pro starts at $799 for the entry-level 32GB Wi-Fi only model. A 128GB Wi-Fi only model is available for $949, and a 128GB Wi-Fi + Cellular model is available for $1,079.
Discuss this article in our forums
—
Full Story (EN):More …
Prevod :Prevod teksta
Source:MacRumors