T-Mobile today announced a new holiday promotion it's calling "Un-carrier Unwrapped," offering free unlimited LTE data for all of its Simple Choice customers for the next three months. All existing Simple Choice postpaid customers as of the end of the day on November 23 will get the unlimited data.
T-Mobile also plans to unveil additional "gifts" for the next month, with a new gift coming each week. The company is teasing a "special holiday gift" for Sprint, AT&T, and Verizon customers, with one gift per carrier per week.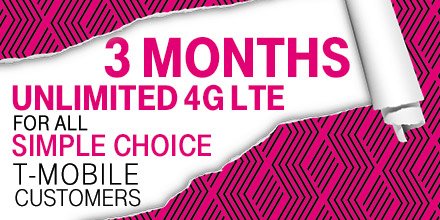 "We've had a fantastic year, and we're going to spread that T-Mobile cheer by starting with the most important people first… our existing customers! Now you get Unlimited LTE data on our blazing fast network for three full months as a gift from the Un-carrier to you," said John Legere, president and CEO of T-Mobile. "But that's not all….we know that Verizon, AT&T and Sprint customers need some holiday cheer, too – so we've got presents coming for them. Just wait!"
The unlimited data offering for Simple Choice customers will begin on December 1, 2015 and will last through March 1, 2016. Unlimited data will kick in once all existing data and Data Stash data has been used up. T-Mobile does require its Binge On video streaming service to be activated.
Unveiled earlier this month, Binge On provides T-Mobile customers with video streaming that does not eat into data plans, but it uses a data compression algorithm that streams video at a reduced 480p quality.
T-Mobile is also offering Black Friday deals on Samsung smartphones and discounting the UE Boom Bluetooth speaker by $100, dropping the price to $99.
Discuss this article in our forums
—
Full Story (EN):More …
Prevod :Prevod teksta
Source:MacRumors