Starting today, Apple has made in-store pickup available for the new MacBook Pro with Touch Bar in the United States, allowing customers to check stock at their local store and reserve a machine online.
The MacBook Pro first started popping up in retail stores on Tuesday, but because there was no in-store pickup option, there was no way to tell which stores had stock and which didn't. It's now much easier to see which locations have MacBook Pro models available for immediate purchase.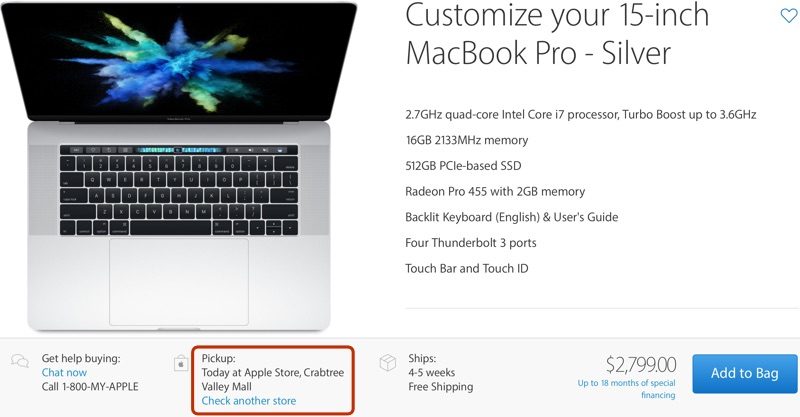 Many stores around the country are listing December 30 pickup dates for the higher-end 13-inch MacBook Pro model and the two 15-inch models, but there are some locations where the new MacBook Pros are currently in stock. The entry-level 13-inch MacBook Pro with Touch Bar appears to be much more widely available than other machines.
A MacBook Pro with Touch Bar ordered from the Apple online store today won't ship for approximately four to five weeks, so checking local stock on a daily basis is a good way to get a model with a standard configuration much more quickly.
Prices on the new MacBook Pro with Touch Bar start at $1,799 for the 13-inch model and go up to $2,799 for the 15-inch model, with additional processor, storage, and GPU boosts available for additional fees.
Discuss this article in our forums
—
Full Story (EN):More …
Prevod :Prevod teksta
Source:MacRumors