Apple released macOS 10.12.2 yesterday with stability improvements and fixes for several key bugs, including major graphics issues plaguing some late 2016 model MacBook Pro users.
What the changelog did not mention is that Apple also removed the "time remaining" battery life indicator following an increasing number of battery life complaints, likewise among new MacBook Pro users.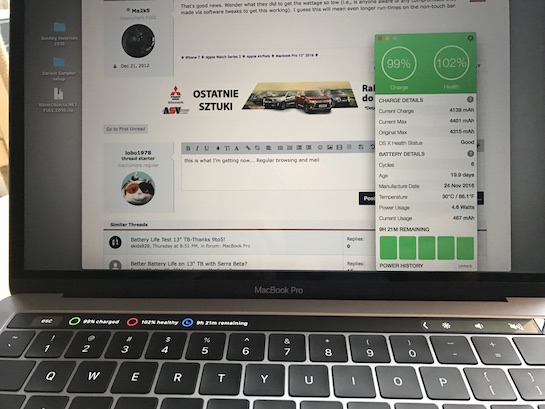 A new MacBook Pro on macOS 10.12.2 with a 99% charge and an estimated 9 hours and 21 minutes of battery life remaining
What it may have also failed to mention is that macOS 10.12.2 appears to have led to battery life improvements for some users. A growing number of
MacRumors
forum members using the new MacBook Pro claim to be experiencing
longer battery life
after updating to macOS 10.12.2, despite experiencing less-than-desirable battery life while running macOS 10.2.1 just days earlier.
Many of the users using battery apps like coconutBattery have noticed their new MacBook Pro's battery is discharging with lower wattage, and if accurate, the lower power consumption would certainly lead to longer battery life.
MacRumors forum member lobo1978 — edited slightly for clarity:
Ok it is official. macOS Sierra 10.12.2 fixed my battery. I am up back to 9-10 hours of regular use. Before updating, idle power consumption was not going lower than 6 watts. On macOS Sierra 10.12.2, it is now MacRumors forum member JohnnyGo:

Before the update was getting 7-9 hours with 50-60% brightness. Now getting >10 hours with 70-75% brightness with the same workload (Wi-Fi and Bluetooth on of course).

At least a dozen other users have reported similar results since yesterday after upgrading to macOS 10.12.2.

While the user reports are worth acknowledging, they remain anecdotal and reflect only a small subset of new MacBook Pro users. It remains to be seen if Apple actually made battery life optimizations in the latest macOS Sierra update; if it did, however, Apple could be choosing to do so quietly as to not confirm that battery life issues were actually a problem for some users.

Apple officially says the new MacBook Pro is rated for up to 10 hours of battery life. Specifically, its tech specs page says all new 13-inch and 15-inch models are capable of up to 10 hours of wireless web browsing, up to 10 hours of iTunes movie playback, and up to 30 days of standby time on a single charge.

Following the release of macOS Sierra 10.12.2, Apple told The Loop that, after a lot of testing, it stands behind the 10-hour battery life advertised.

As more user reports surface, we should be able to see if the alleged battery life improvements are circumstantial or part of a larger trend.

Discuss this article in our forums
—
Full Story (EN):More …
Prevod :Prevod teksta
Source:MacRumors