Every December, Apple provides its retail employees around the world with a special holiday gift to thank them for their contributions to the company and to celebrate the holiday season.
For 2016, Apple is giving each employee a T-shirt and a printed copy of the company's credo. The t-shirt is gray in color and features two circles created from what appears to be a list of all of the company's retail locations around the world.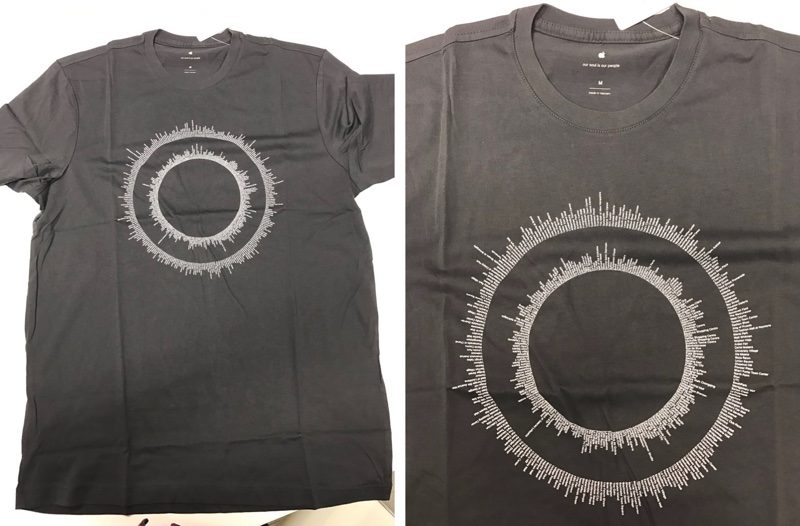 The credo is printed on a heavy card stock and comes in a protective envelope. Apple first introduced its new six-paragraph credo in August of 2016.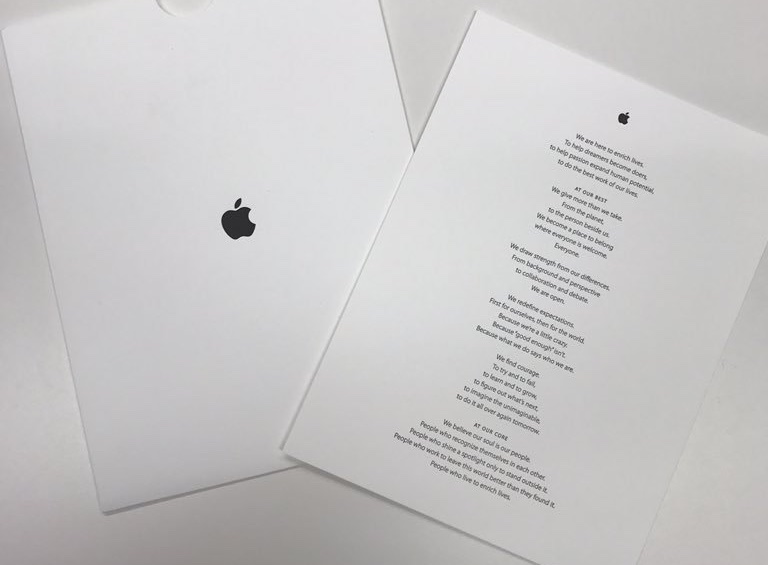 We are here to enrich lives.

To help dreamers become doers,

to help passion expand human potential,

to do the best work of our lives.

AT OUR BEST

We give more than we take.

From the planet,

to the person beside us.

We become a place to belong

where everyone is welcome.

Everyone.

We draw strength from our differences.

From background and perspective

to collaboration and debate.

We are open.

We redefine expectations.

First for ourselves, then for the world.

Because we're a little crazy.

Because "good enough" isn't.

Because what we do says who we are.

We find courage.

To try and to fail,

to learn and to grow,

to figure out what's next,

to imagine the unimaginable,

to do it all over again tomorrow.

AT OUR CORE

We believe our soul is our people.

People who recognize themselves

in each other.

People who shine a spotlight

only to stand outside it.

People who work to leave this world better than they found it.

People who live to enrich lives.
Apple's employee gift this year is somewhat less impressive than the gifts that have been handed out in past years. In 2015, employees were given a set of black and red urBeats headphones from the Beats by Dr. Dre product lineup and a nine-month Apple Music subscription.
In 2014, employees received an Apple-branded Incase backpack, and gifts in the years before that have included things like blankets, water bottles, hoodies, free apps, discounted iTunes gift cards, and more.
Discuss this article in our forums
—
Full Story (EN):More …
Prevod :Prevod teksta
Source:MacRumors