There have been several rumors suggesting the upcoming OLED "iPhone 8" could potentially be delayed due to production delays, and in a new note to investors sent out today, KGI Securities analyst Ming-Chi Kuo reiterates his prediction that production ramp-up will be delayed.
According to Kuo, who titled his note "Rising probability of worst-case scenario for iPhone shipments," production ramp-up of the iPhone 8 could be delayed to "as late as October-November," a departure from Apple's traditional August to September ramp-up period.
The result will be "severe supply shortages" that persist for "a while" after the new iPhone models are introduced in September. To be clear, Kuo continues to believe Apple will introduce the iPhone in September, but he suggests there's a strong possibility the device will be hard to come by for several months following its release.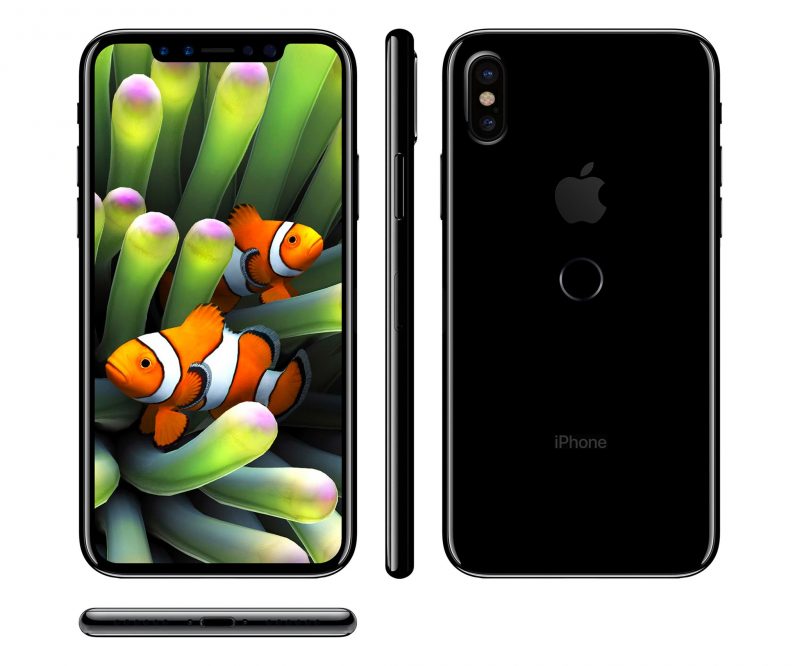 "iPhone 8" mockup with rear Touch ID sensor by Benjamin Geskin
Due to the possible iPhone 8 shortages, Kuo believes Apple may only ship 80 to 90 million iPhone units during the second half of 2017, down from 100 to 110 million units. Kuo does say it's not clear if demand will fully shift to the iPhone 8, due to questions about the usefulness of a rumored 3D sensor, the potential for Touch ID to be eliminated, and market competition.
While we are positive on potential replacement demand triggered by OLED iPhone, it's too early to determine if demand will shift fully in that direction. We recommend investors keep tabs on the following issues: (1) whether the 3D sensor of OLED iPhone provides an innovative user experience; (2) whether OLED iPhone cancels Touch ID (fingerprint recognition); and (3) whether Apple's competitors launch more innovative products which could compete with OLED iPhone in 4Q17-2Q18.
It is not unusual for us to hear rumors of production delays and supply shortages ahead of an iPhone release, and indeed, the iPhone 7 Plus was constrained for months after its launch, but the warnings about the iPhone 8 are popping up more frequently from trusted sources and are more dire than warnings we've seen for past iPhone release cycles.
Rumors have suggested that Apple is struggling with integrating the Touch ID fingerprint sensor underneath the glass of the iPhone 8, which has led to production difficulties. Due to these issues, rumors have also indicated that Apple could potentially put Touch ID on the back of the device or perhaps more unlikely, eliminate it entirely in favor of other biometric systems, like facial recognition. Kuo has not mentioned removing Touch ID entirely in previous research notes, but the wording of today's document seems to suggest he believes it's a possibility.
Apple is also said to be having trouble with the display lamination process and integrating a new 3D sensing front camera system into the device. Given the major design changes coming in the iPhone 8, including an edge-to-edge OLED display and a glass body, it is not surprising to hear that many of the new technologies involved are causing production problems.
Some rumors have suggested Apple could delay the debut of the iPhone 8 entirely, not introducing it in September, but most rumors believe the company will show it off at the event and perhaps launch it in small quantities.
Discuss this article in our forums
—
Full Story (EN):More …
Prevod :Prevod teksta
Source:MacRumors