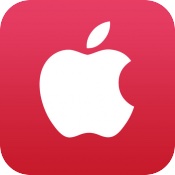 Apple today updated its official WWDC app to version 6.0.2, introducing a handful of bug fixes and bringing Handoff support for the app for the first time.
With Handoff, you can begin watching a video in the WWDC app and continue it on another iOS device or in the Safari browser on a Mac by tapping the Handoff icon as you would with any other Handoff interaction.
Along with Handoff support, the app introduces improved navigation on the Apple TV when swiping up and down, it makes sure previously downloaded videos remain available when switching between HD and SD, and it fixes an issue that caused previously downloaded videos to be lost when upgrading.
Apple's WWDC app is the official app for the Worldwide Developers Conference. It houses all of the WWDC videos from sessions that have been conducted over the years and allows them to be streamed on iOS devices and the Apple TV.
During conferences, it also provides times for sessions and labs, indoor event mapping, full schedules, and important news updates.
The WWDC app can be downloaded from the App Store for free. [Direct Link]
Discuss this article in our forums
—
Full Story (EN):More …
Prevod :Prevod teksta
Source:MacRumors