Apple this evening began sending emails to customers who attempted to pre-order an iPhone X through the iPhone Upgrade Program but ran into a problem during the process.
In the email Apple asks customers to place a new iPhone Upgrade Program order and to reply to the email with the order number. It's not clear why Apple is asking for order numbers, but it could be that the company is planning to expedite these orders in some way.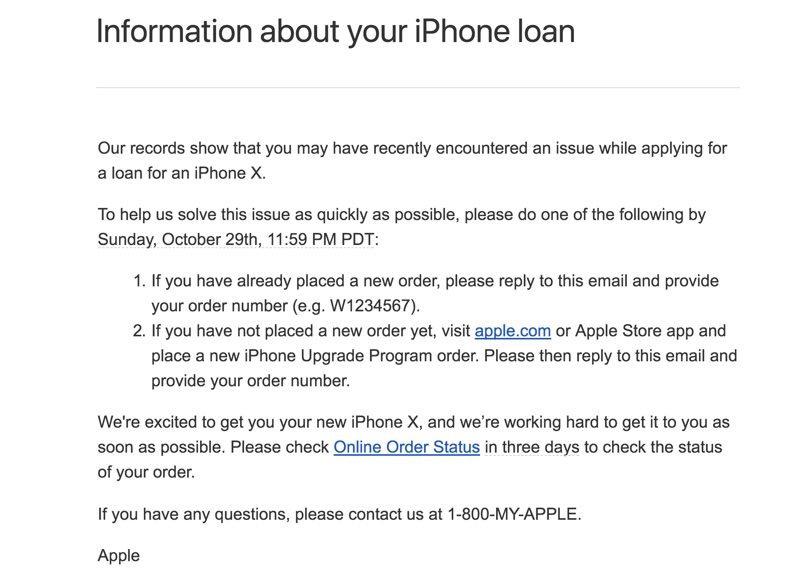 The email says Apple is working to get iPhone X models out as soon as possible, but the wording doesn't necessarily suggest an order upgrade or faster shipping, so it's possible Apple is just making sure its iPhone Upgrade Program customers have the chance to place an order.
Customers receiving these emails seem to have been told during ordering that their loan applications with Citizens One were taking longer to process than expected, and many later received notice that their orders were not initially approved. These customers were forced to order at a later date and now have delivery estimates of five to six weeks for their new devices.
If it does turn out Apple is planning to expedite the orders of these customers in some way, we'll update this post, but at the current time, it's unclear what Apple's plans are.
Discuss this article in our forums
—
Full Story (EN):More …
Prevod :Prevod teksta
Source:MacRumors