As part of its newly updated App Store in iOS 11, Apple is introducing a new "This Weekend Only" feature for the "Today" section, which will see the company offering "new ways to save" with apps.
Apple will introduce an app with a special deal each Thursday, with discounts available through Sunday. To celebrate the launch of the feature, Apple this week is offering exclusive discounts within five apps.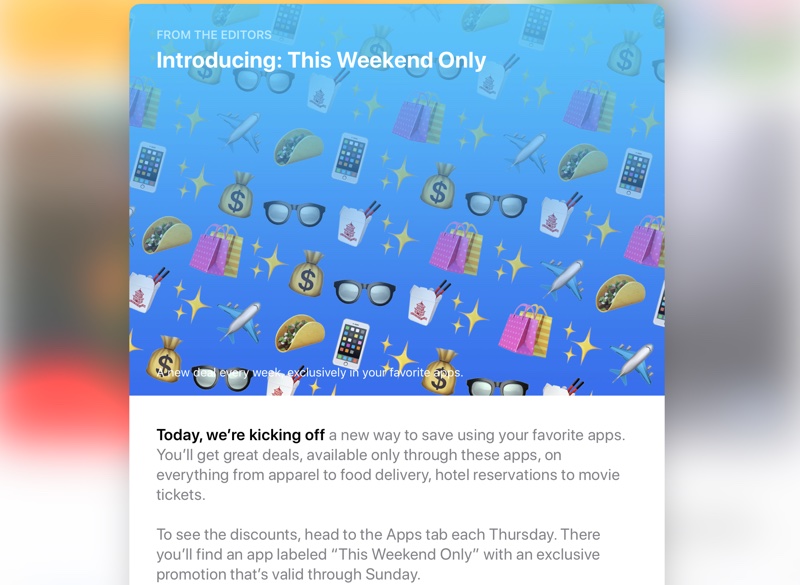 You can find the discounts by opening the App Store on an iOS device and navigating to the "Today" view. It's listed under "Introducing: This Weekend Only." This weeks deals are listed below.
– HotelTonight: With the HotelTonight discount, customers booking a last minute hotel room can receive up to 40 percent off of the original room price.
– Glasses by Warby Parker: With Warby Parker's new app, customers who place an order for glasses or sunglasses this weekend will receive a free geometric case, valued at $15.
– Under Armour: Purchases over $100 made within athletic apparel app Under Armour will be discounted by $20.
– Chipotle: When purchasing an entree at Chipotle, customers can get a free order of chips and queso.
– Shoptiques: Apparel and accessory app Shoptiques is providing 15 percent off all orders over $100.
Apple's new "This Weekend Only" App Store section is just one of the ways the company is using the new design of the App Store to highlight apps. Each day, there's an array of new content available in the Today section of the App Store, which is designed to surface a range of new apps and games.
Discuss this article in our forums
—
Full Story (EN):More …
Prevod :Prevod teksta
Source:MacRumors