Elevation Lab, known for its popular line of wired dock options for the iPhone, recently came out with its first wireless charging dock, the NightPad.
The NightPad, which is a 7.5W charger, looks like a lot of other wireless chargers on the market, but there are some premium features to be aware of. It's covered in a soft silicone material that holds the iPhone in place while it's charging, and there's also a raised ring that makes sure the iPhone stays secure.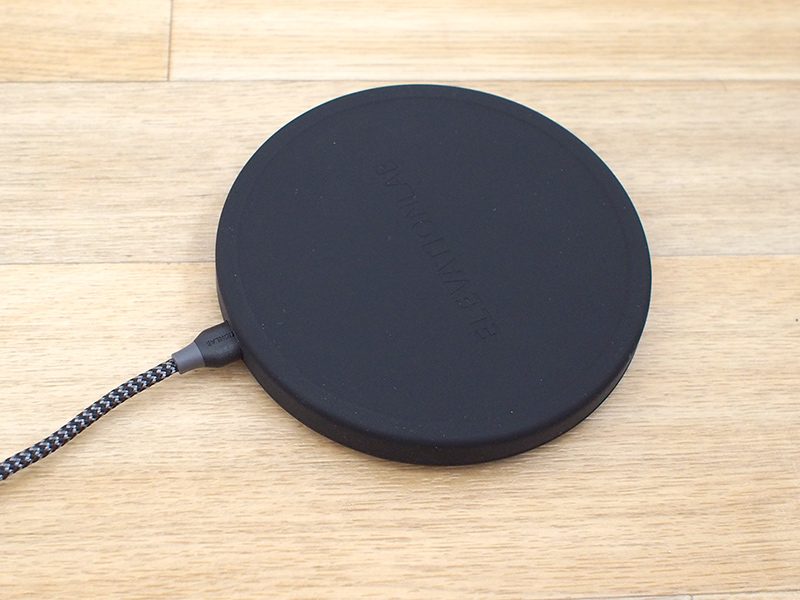 While the design of the NightPad is simple, that silicone material has such a matte finish that it makes the charging pad look super black, so it does stand out from your average charging pad. There is subtle Elevation Lab branding on the top of the charger, but it can be hard to see just because it's so dark.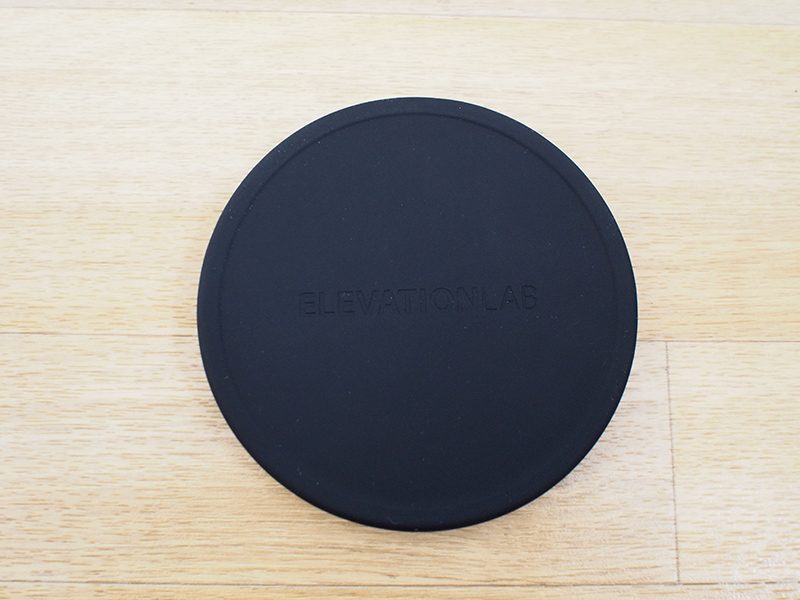 Size wise, the NightPad is palm-sized and a little larger than a coaster. As with most wireless chargers this size, you do need to make sure to get the iPhone lined up in the center because if it's off to the side a bit (which can happen — especially in the dark) it won't charge.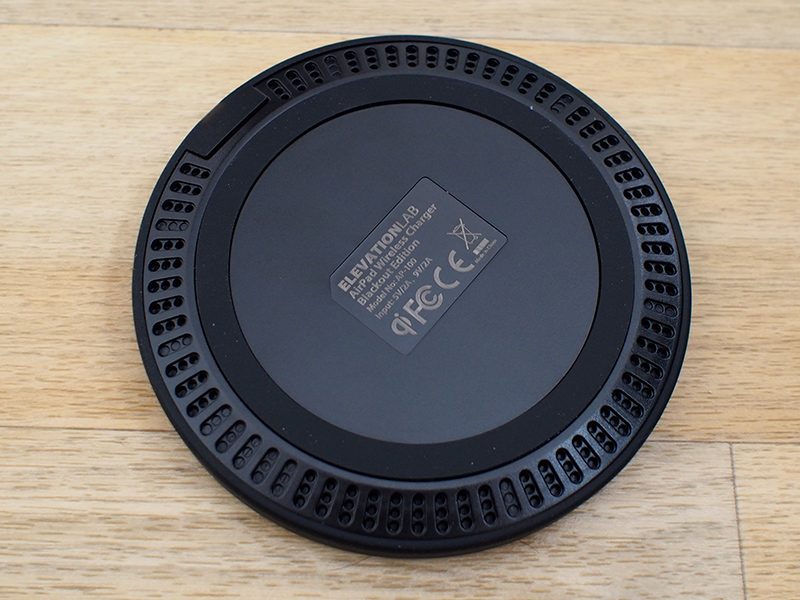 There is no LED on the NightPad at all, which is a deviation from most chargers. This was done so that it can be used in a dark room, and it's a decision that I understand. It's easy enough to tell when the iPhone is charging because there's a buzz when you first put it on the charger.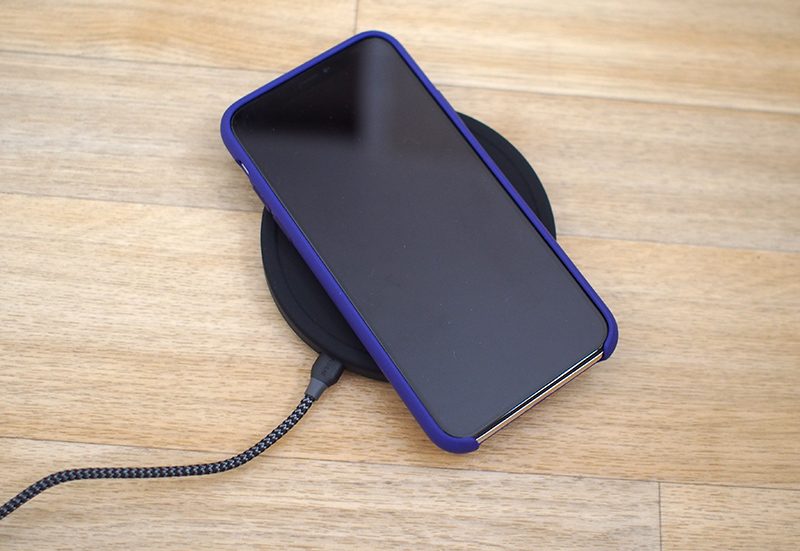 A 6-foot braided micro-USB cable is included with the NightPad, so this is a great choice if you need a long cable. I don't, so it was a bit of a nuisance, but Elevation Lab does include a velcro cable wrangler to wind up extra cord.


You can purchase the NightPad with or without a power supply, and the version with 15W QC 3.0 power supply is $10 more expensive. 15W+ adapters are required for Apple's faster 7.5W charging, so people without a QC 3.0 power adapter will want to purchase the version that includes it.
If you already have a compatible power adapter, you can use that and get a discount on the NightPad.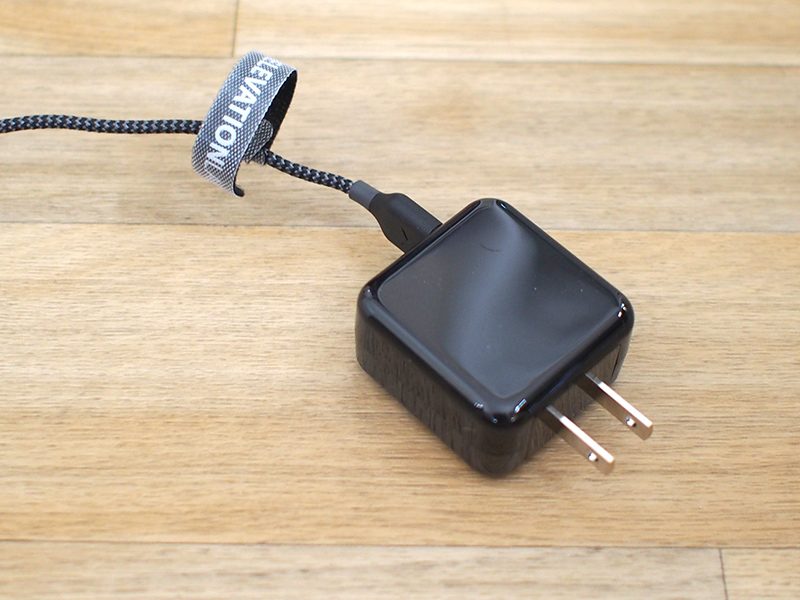 In my testing, the NightPad charged at 7.5W as advertised. I drained it to 1 percent battery and then put it on the charger for an hour. With the first test, it charged up to 37 percent, and with the second test, it charged to 39 percent.
That's in line with other 7.5W charging speeds I've seen during the summer, where the indoor temperature is about 74 degrees. Temperature can impact wireless charging speeds quite a lot, so expect to see a lot of variance depending on ambient temperature and other factors.
Elevation Lab says that the NightPad can charge the iPhone 50 percent faster than standard Qi wireless chargers, but that must be in optimal conditions because the NightPad charges the iPhone at the same rates as other 7.5W chargers and the difference between a 7.5W charger and a 5W charger in our experience is not typically 50 percent.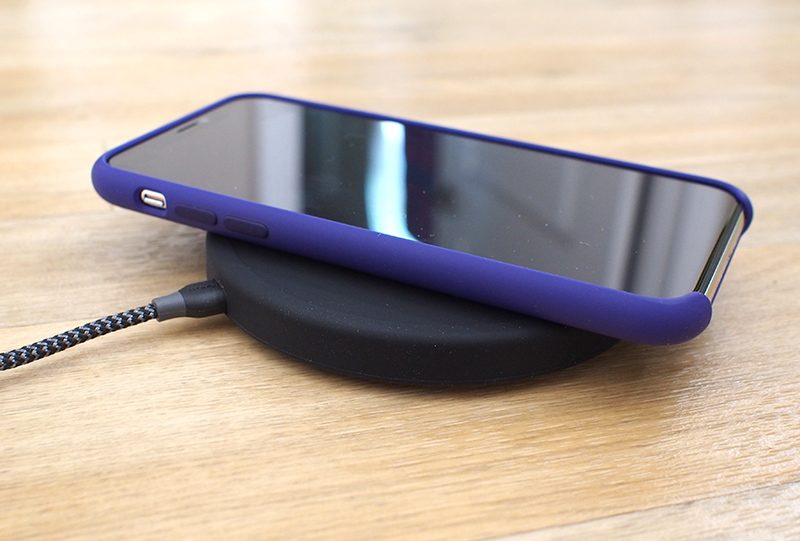 While designed for iPhone, the NightPad will work with other Qi-based devices and it supports Samsung's 10W fast charging.
Wireless charging is no match for wired charging so it's not always ideal when you need a lot of power in a short amount of time, but it's ideal for charging over the course of the day or at night.
I tested the NightPad with a standard Apple silicone case, but Elevation Lab says that it will officially work with cases up to 3mm thick and unofficially, it supports cases up to 6mm thick.
Bottom Line
All of the 7.5W iPhone wireless chargers charge at about the same speed. so choosing one comes down to the features that appeal to you.
The NightPad is a good choice if you're going to use your wireless charger at night, because there's no LED to add extra light pollution to the room.
It offers an appealing pure black color and a silicone base that holds the iPhone in place, plus it has an extra long braided cord. The $40 version is worth it to make sure you get the faster 7.5W charging speeds, and it is competitively priced with other premium chargers on the market.
How to Buy
You can purchase the NightPad from the Elevation Lab website for $39.95 standalone and for $49.95 with a 15W QC 3.0 power supply included.
Discuss this article in our forums
—
Full Story (EN):More …
Prevod :Prevod teksta
Source:MacRumors